AQTIS 514 IATSE Annual General Assembly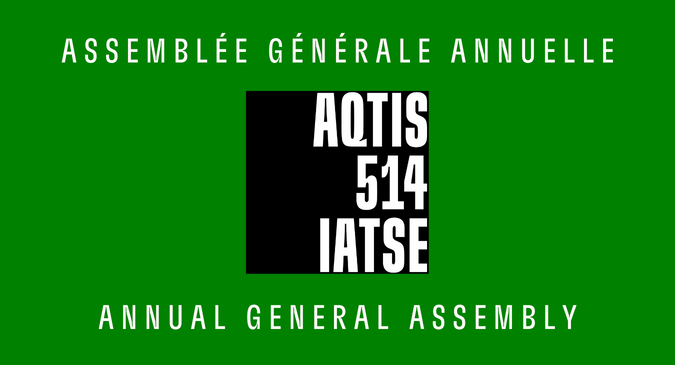 The AQTIS 514 IATSE Annual General Assembly will be held on Wednesday, April 26, 2023, at 7:00 p.m.
Registration for virtual attendance is now closed.
If you wish to attend, we invite you to come to the BAnQ auditorium (475 De Maisonneuve Boulevard East, Montreal).
At this meeting, the activity report and financial statements for the year 2022, and the action plan and budget for 2023, will be presented. We remind you that proposed amendments to the Constitution and Bylaws will be dealt with at the Special General Assembly on June 4, 2023.
For environmental reasons, please bring your own reusable water bottle. 
Appetizers will be served before the meeting.

We advise you that there will be elections for the Financial Audit Committee. Anyone interested in serving on the Committee should take note.
IMPORTANT NOTES ABOUT THE ASSEMBLY:   
Consult THE MINUTES OF THE 2022 ANNUAL GENERAL ASSEMBLY


AGENDA ANNUAL GENERAL ASSEMBLY AQTIS 514 IATSE April 26, 2023